Pulled Beef Short Rib Enchiladas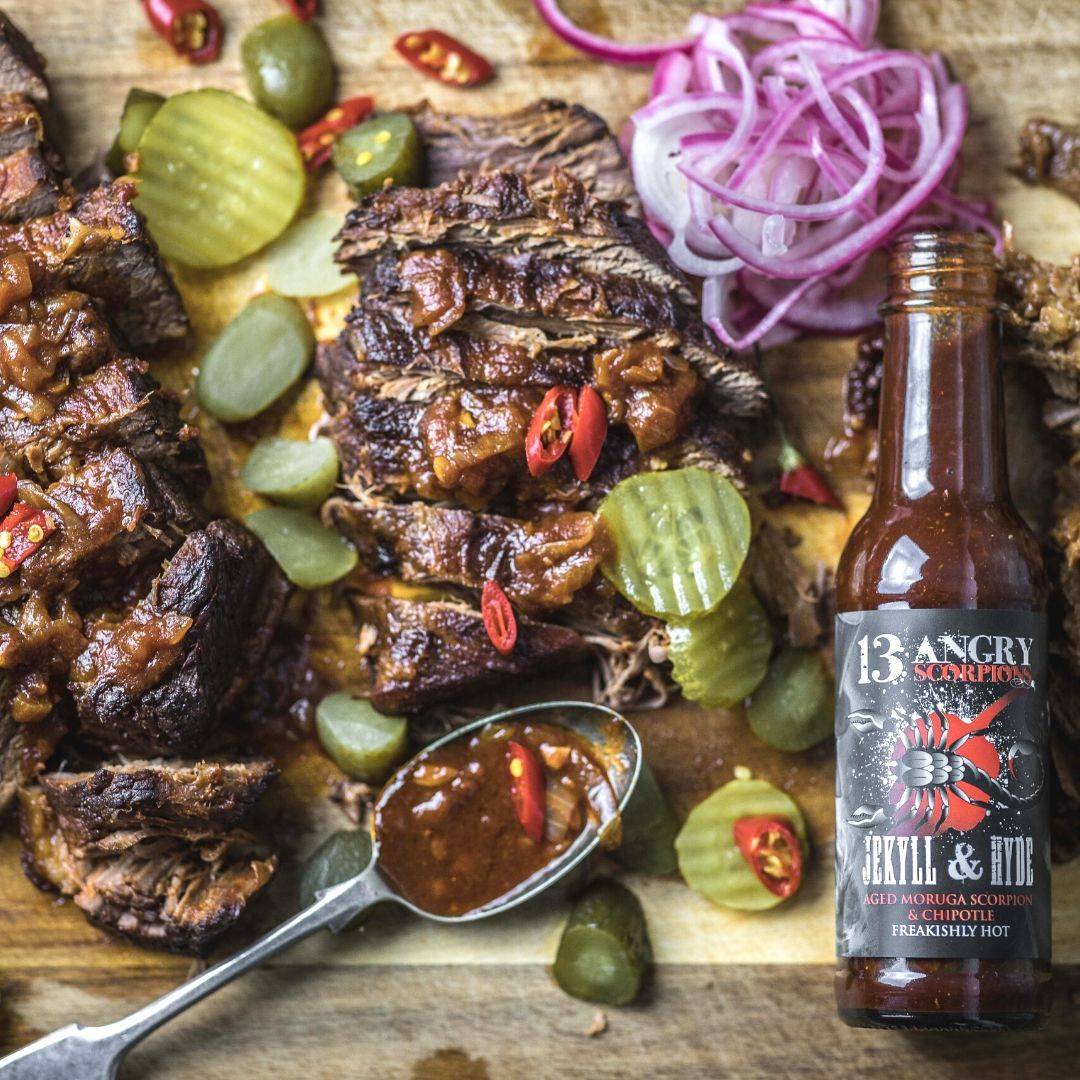 Pulled Beef Short Rib Enchiladas
with the most amazing house-made Salsa!
---
This recipe comes courtesy of Award Winning Hot Sauce Maker - Patrick Beresford from 13 Angry Scorpions.
Serves 4
Prep time 10 minutes
Cooking time 8.5 hours
1 kg quality beef short ribs
Garlic Powder
Sea Salt
Sweet Paprika
2 tins of Crushed Tomato
8 Corn Tortillas
Vintage Cheddar Cheese
1 Cup Rice
Tomato Paste
Heavily season your short ribs with your favourite dry rub.
Fill your slow cooker with enough crushed tomatoes to completely cover the short ribs. Then add 3 tablespoons of

13 Angry Scorpions Jekyll & Hyde Hot Sauce.

Submerge the short ribs in the tomato mixture within the slow cooker, and cook
on low for approx. 8 hrs.
Remove the ribs from the slow cooker using tongs. The meat should just fall part.
Set aside the tomato mixture from the slow cooker ( we'll use this for the sauce!)
Shred the meat using tongs or two forks. Remove enough of the liquid from the meat, so you don't make the enchiladas soggy.
Spoon the meat into corn tortillas and roll.
Place tortillas across the bottom of a deep

oven proof dish, close enough that they are just touching each other.

Cover the rolled tortillas in your

home made tomato sauce, from the slow cooker then sprinkle with plenty of

vintage cheddar.

Cover the dish with foil ( so the enchiladas don't dry out) and cook on 180 degrees for about 45 mins.
Seriously Good Home Made Salsa
Remove the left over tomato juices from your slow cooker and place in a small saucepan.
Add a good quality tomato paste to thicken the sauce and stir over heat for 15 mins.