Old Bones Maker Story
Meet Josh Ngaire
Maker of Old Bones Hot Sauces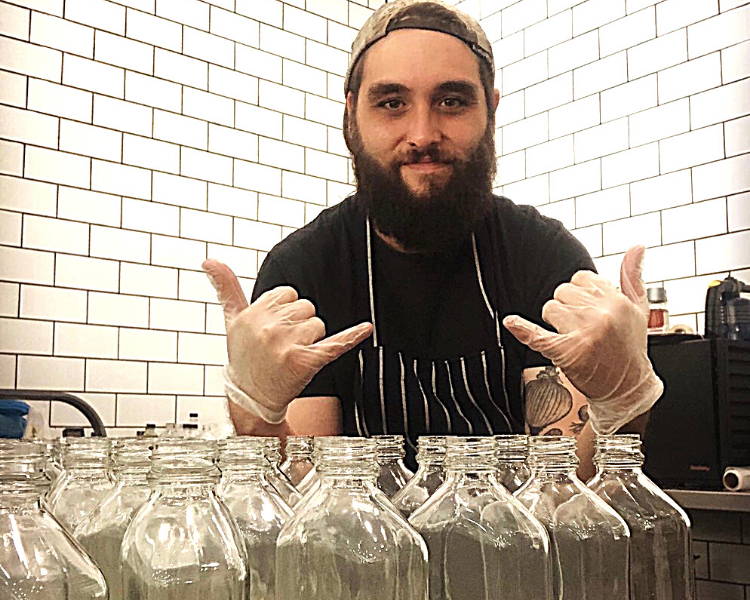 It's all about flavour first, heat second...
About two years ago I was working at a restaurant in Sydney called Mejico and got really interested in hot sauces and chilli's and from there my love for chilli sauce just snowballed.
After working there for about 18 months I started thinking about sauce recipes and made a few of them up for myself at home. One day a friend of mine came over and I think we were eating something – and he goes, "Have you got any sauce?"
I was like, "Yeah, try this," so I gave him the sauce. It was a rough version of what we now sell, and he was just like, "Dude, this thing is delicious."
I was like, "Yeah." You get kind of used to hearing that, as a chef, but he was like, "No, seriously."
He had a background in marketing, corporate as well, and he was like, "You need to do something about this. If you don't, then I'm going to make you."
Yeah, I was just like, "All right, cool," and then that's how it all began.
We launched our Old Bones sauce at the Sydney Chilli Festival last year.
"Each sauce has its own, specific label. Like everything else we do in the company, all the design is done in-house by us."
We love the Old Bones artwork. How did it come about?
Originally, I had an idea in my head of what I wanted, but it was my partner, who has a background in graphic design and editing, who suggested I create a storyboard. That storyboard ended up being filled with images, feelings, songs, food – everything related to what I envisioned Old Bones to be. And then she basically articulated that into the hand-drawn image that we're using today.
Each sauce has its own, specific label. Like everything else we do in the company, all the design is done in-house by us.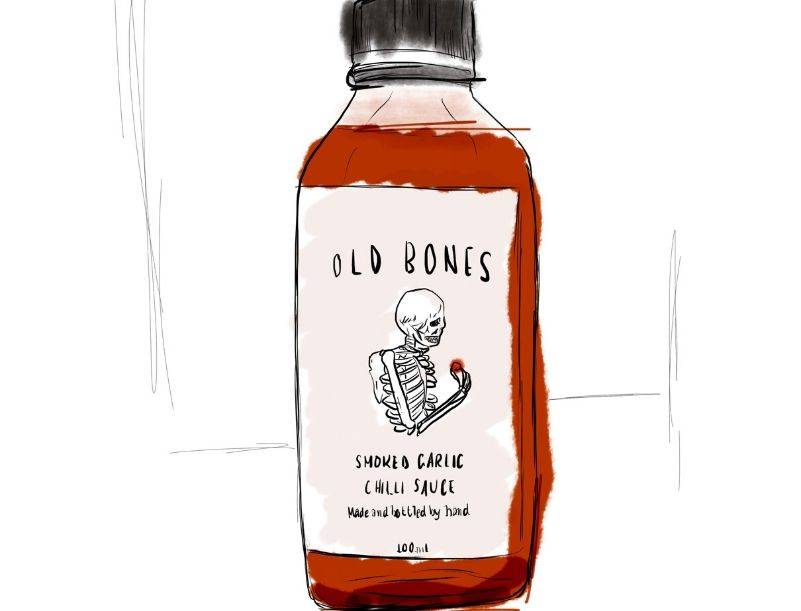 How do you get 'Old Bones' to taste so good?

Over the years I'd developed a smoking method that was a little back-pocket secret of mine. I had been looking at a lot of the sauces on the market, looking for a sauce that I'd like to eat. I found a lot of the smoked sauces on the menus available in stores tasted really synthetic and had a chemically smoked flavour to them. So, I started using a smoking method that I'd been using for a couple years, and it worked really well.
I then spliced that with the natural flavours of the habanero chilli, which are actually really, really, citrusy. And by using a little bit of chef trickery, I was able to enhance the citrus flavour of the habaneros.
We don't have a lot of heat in the Habanero sauce. It's an entry-level sauce for 'hot sauce' beginners, and you actually get to taste the full flavour of a habanero without it blowing your socks off.
I have focused on pushing the flavours forward rather than heat. I know a lot of people like heat, but I'm not naturally a chilli-head. I wasn't trained to like chilli, so it was a learning experience for me. It started slowly, and I'm easing my way into it, and working my up to hotter chilis, but I think once you get past the heat element of it all, chilli's actually have a lot of beautiful and natural flavours.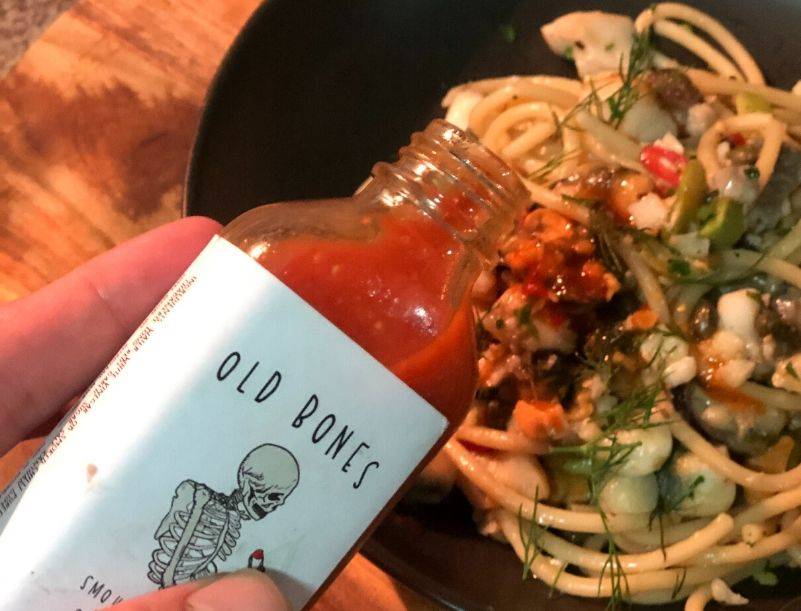 What's coming next for Old Bones?
At the moment we've just got our single sauce in both a regular and hot version, but we also have a bunch of products coming out later in the year.
We've just moved into a kitchen in Alexandria, in Sydney. So now I have a lot more time (and space) to do R&D. So far, we've had probably two or three new products come out of our R&D sessions. We're in the throes of finalising those products, and they'll hopefully hit the market in the next couple of months.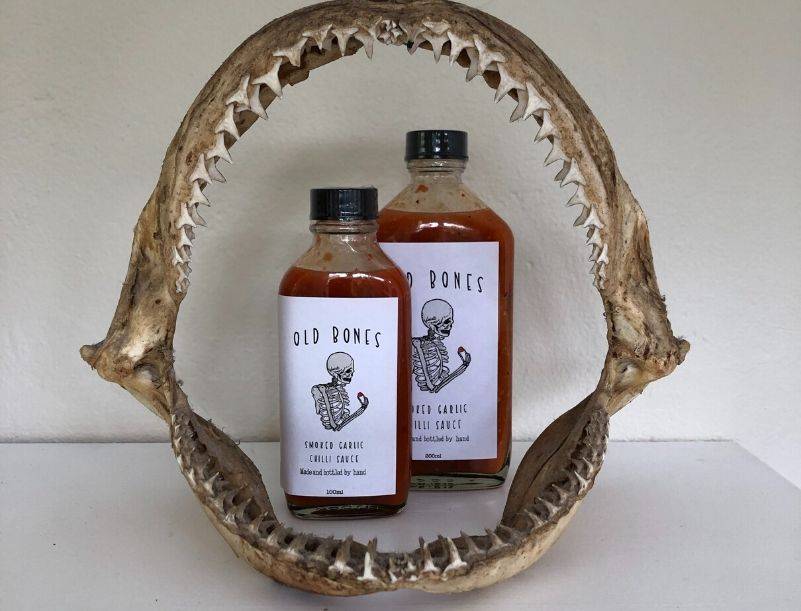 How do you make your Old Bones sauces?
In the past I've worked in a hotels and have learnt a lot about cooking food in bulk. So, all of our sauces, believe it or not, are made by hand in our kitchen. The other day I did a batch of about 250 litres of sauce - which is pretty huge for a one-man job.
While I make the sauce myself, the rest of the crew come in and help with bottling and packaging. We've all got to hit it hard and manage to make quite a lot of sauce in a small amount of time.
Every time we introduce a new menu item or a product, it has to be able to be made to a very high standard. I can't take three or four weeks to make a single bottle, so it's important that we can make things quickly – while also making sure the sauce is unbelievably good.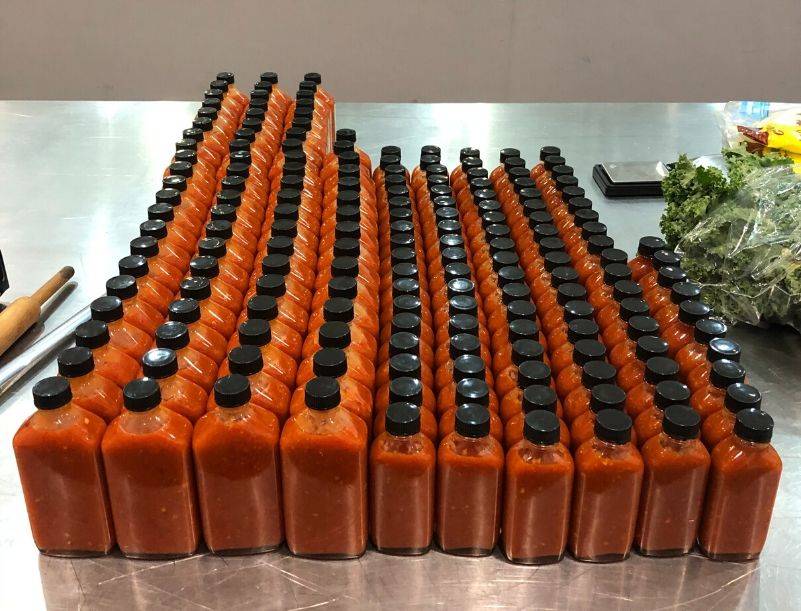 Sweet or savoury? Sweet.
Beer or wine? Definitely wine.
Red or white? Red.
Big or small red? Big.
Dog or cat? Cat.
Camping or binge TV? Camping.
How often do you eat hot sauce? Every day. Pretty much every meal, every day, every minute.
On a heat scale 1 – 10 where do you sit? I'd probably say about six or seven.
What's your favourite thing you're eating right now?
Definitely quesadillas. I'm actually sharing the kitchen with one of my friends who owns the Night Hawk Diner, so we actually run food in the evening. We've just done a little bit of an experiment with some quesadillas, and they are damn good.
---