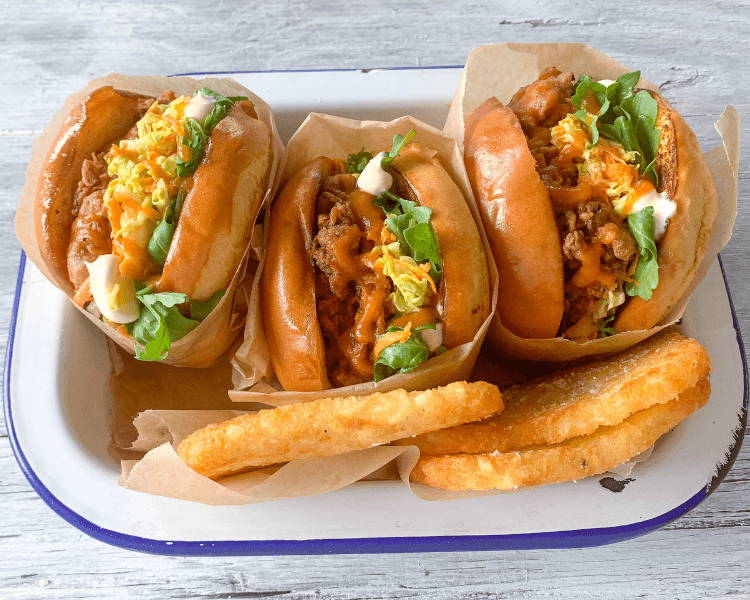 Crunchy Buttermilk Chicken Burger
Overnight Marinade
Prep time 15 minutes
Cooking time 12 minutes
Serves 8  
* We used Yellowbird Habanero in this recipe but any carrot or fruit-based hot sauce would work as well.
4 chicken thighs
1 cup buttermilk
1-2 Tbsps Hot Sauce
500ml vegetable oil
1 ½cups plain flour
1tsp dried oregano
1 tsp smoked paprika
1 tsp garlic powder
2 tsp dried chilli flakes
8 brioche buns
100g rocket leaves
Hash browns to serve
Slaw-
¼ cabbage (or 2 cups shredded)
1 carrot, peeled and grated
1 green shallot, chopped
2 Tbsps mayonnaise
1 Tbsp white vinegar
Sea salt & cracked pepper
Slash chicken thighs so they are all the same thickness. Place chicken into a glass bowl and marinate in buttermilk and hot sauce overnight or at least 2 hours.

Heat a large saucepan with oil over medium-high heat. To test if the oil is ready, drop a small piece of bread into the oil if it sizzles and changes colour its ready!

Combine flour with oregano, smoked paprika, garlic and chilli flakes.

Remove chicken thighs from marinade one at a time and drain off excess.

Completely coat chicken with seasoned flour.

Reduce heat slightly on pan and place chicken immediately into the oil, cook for 2-3 minutes each side, cooking in two batches. Drain on paper towel. Cut each in half.

Place chicken on brioche buns and top with slaw and extra hot sauce.

Serve with Hash browns!