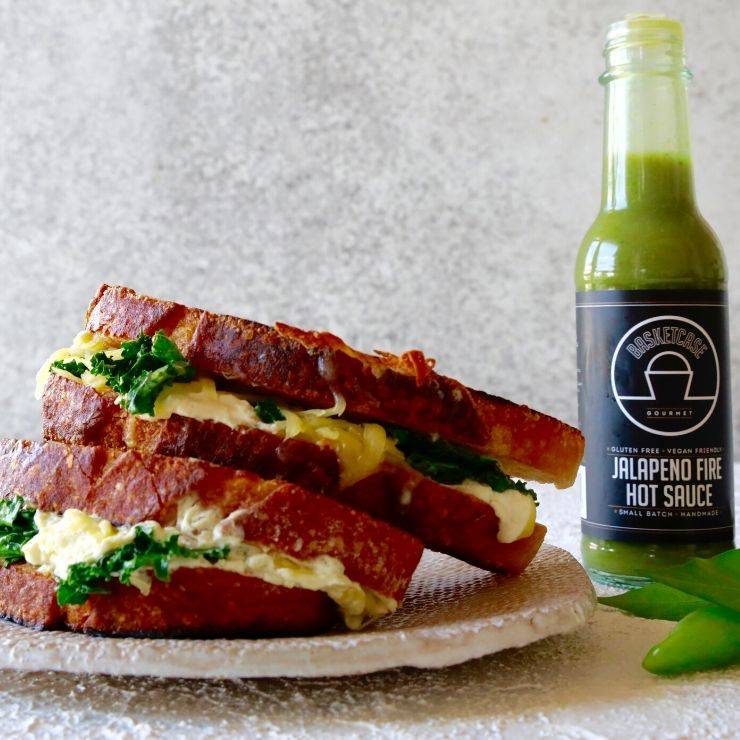 Jalapeno Hot Sauce Toastie
---
Spice up your lunch with a hot sauce Toastie. YUM!
---
Serves 1 (or 2)
Prep time 10 minutes
Cooking time 5 minutes
1/2 Cup Grated Cheese
1/2 Cup Cream Cheese
Thick Slices of Sourdough
Handful of Kale or Spinach leaves
1Tbs Basketcase Gourmet Jalapeno Fire Hot Sauce
1 Tbsp Olive Oil
Combine 1/2 cup grated tasty cheese and 1/2 cup cream cheese with 2-3 tsps of Basketcase Gourmet Jalapeno fire hot sauce.
Spread half of the cream and chilli mixture onto 1 thick slice of sourdough bread. Add a handful of kale or spinach leaves, and top with another thick slice of bread. Repeat with another two slices of bread, remaining cream mix and spinach.
Toast in a sandwich press for 2-3 minutes till melted and golden. Or pan fry in a medium pan, over medium heat with 1 Tbsp olive oil till golden and slightly melted.