Meet Tom - AKA Uncle Mungo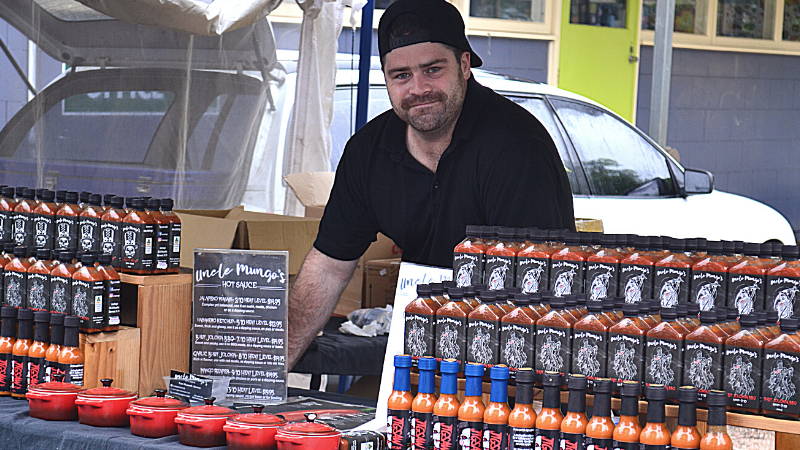 The school holiday project that became a business.
It was an accident! I never intended to start a hot sauce company. It was actually a school holiday project with my daughter that started my hot sauce journey.
Just over 12 months ago during the school holidays, I was at my local supermarket with my two kids and saw some Carolina Reapers on sale. They were selling for about 40 cents because they were about to go off. So, I bought them and thought up a recipe in my head (I should mention here that I am a chef by trade – that helps!)
My daughter and I then purchased some bottles from a two-dollar shop and went home to start cooking. All up I spent $30.
I took some pictures of our school holiday activity progress and posted them on Facebook - then mates started messaging wanting to buy a bottle!
So, I turned $30 into $150 overnight and thought, "Hold on, there might be something to this." So, I did it again. I took that $150 and turned that into $400, and it just exploded from there.
"I often remind myself that this business started on just $30!!"
I started off very small, making just 20 bottles at a time and selling them on Facebook marketplace. Once I realised how popular it was, I set about actually setting up a legitimate business. I started by renting the kitchen at my church and since then, production has increased enormously.
Up until recently, the average batch I've been making is about 50 bottles – but recently I've bought more equipment that means I can now produce about 100 bottles in one batch. The business is still building, and I've been putting roughly ¾ of the profits from each batch back into making the next batch. I haven't been able to buy ingredients in bulk amounts yet so have been paying a premium for them in smaller quantities. I often remind myself that this business started on just $30!!
In just one year I've gone from having no equipment to having a fully decked-out commercial kitchen.
My daughter is my only employee within the business (if you can call her an employee.) She gets up with me at 4am on the weekends to head out the markets, and helps in the kitchen with the cooking and bottling. She is so eager to help and participate in the running of the business. Uncle Mungo's did start with her school holiday activity, so I suppose she has a vested interest!
Flavour first, then heat.
When I'm making my hot sauces, I build the flavour profile of the sauce first and make sure it is on-point. Then I work out a way to get the chilies into it. Think of Tabasco - that stuff is disgusting. It's just watery, vinegary, with a bit of heat. My sauce is the anti-Tabasco. It's packed full of flavour with a heat-level to match. So, the heat compliments the flavours. I've got a product for every meal. Breakfast, lunch and dinner!
Fully fledged chilli head.
My love of hot sauce has been a slow progression. I started out on Sriracha. My wife would buy hot sauces for me to try here and there. What actually converted me to a fully-fledged chilli head was when I tried Bunsters Shit the Bed, and I absolutely loved it. It had a really good flavour profile with a good heat to match.
Up until then I'd only really been having sriracha and Tabasco. So, I tried it and fell in love, and realised that there was this whole massive world of hot sauce out there. From then on, about once every six months I'd make up a 500ml bottle of hot sauce for myself. Because I'm a chef by trade, I could never really justify spending 30 bucks on a bottle of hot sauce when I could make it myself.
For the last 10 years, I've been called Uncle Mungo by my nephews. It all started when my sister was pregnant with her first child, we were sitting down reading a baby-naming book, and she was muddling off names like Marcus, Andrew, Timothy. And goes, "Mungo? Who the hell would call their child Mungo?" And everyone in the room looked at me, because I've always been known as that weird, slightly inappropriate uncle.
So, Uncle Mungo just stuck. And then when it came time to work out a brand name for my hot sauce, it had to be Uncle Mungo.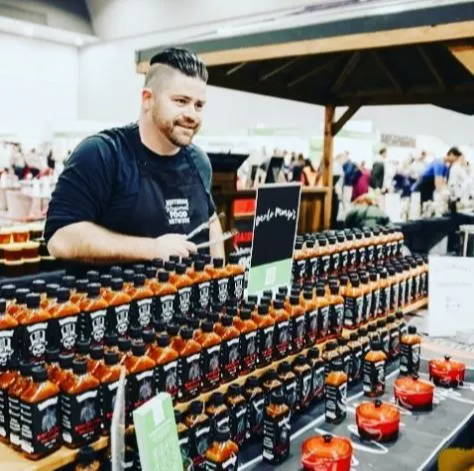 What is your most popular sauce?
My Bhut Jolokia BBQ, that stuff is actually amazing. I mean, that's my favourite. I try not to get too biased, but that stuff sells out so quickly. It's sweet, smoky and spicy – the perfect barbecue sauce.
I've also just brought out a Chipotle BBQ, so it's very similar to the Ghost hot sauce, just with a milder burn to it.
Have you tried everyone's favourite Uncle? Uncle Mungo.

---